Looking to improve but not quite sure where to start or what you need?
Whether you are a healthcare non-profit, scrappy start-up or Fortune 500, Seven Ways Consulting can help you reimagine and create what's next for you and your team.
Below are a few client examples that might help you identify what is possible.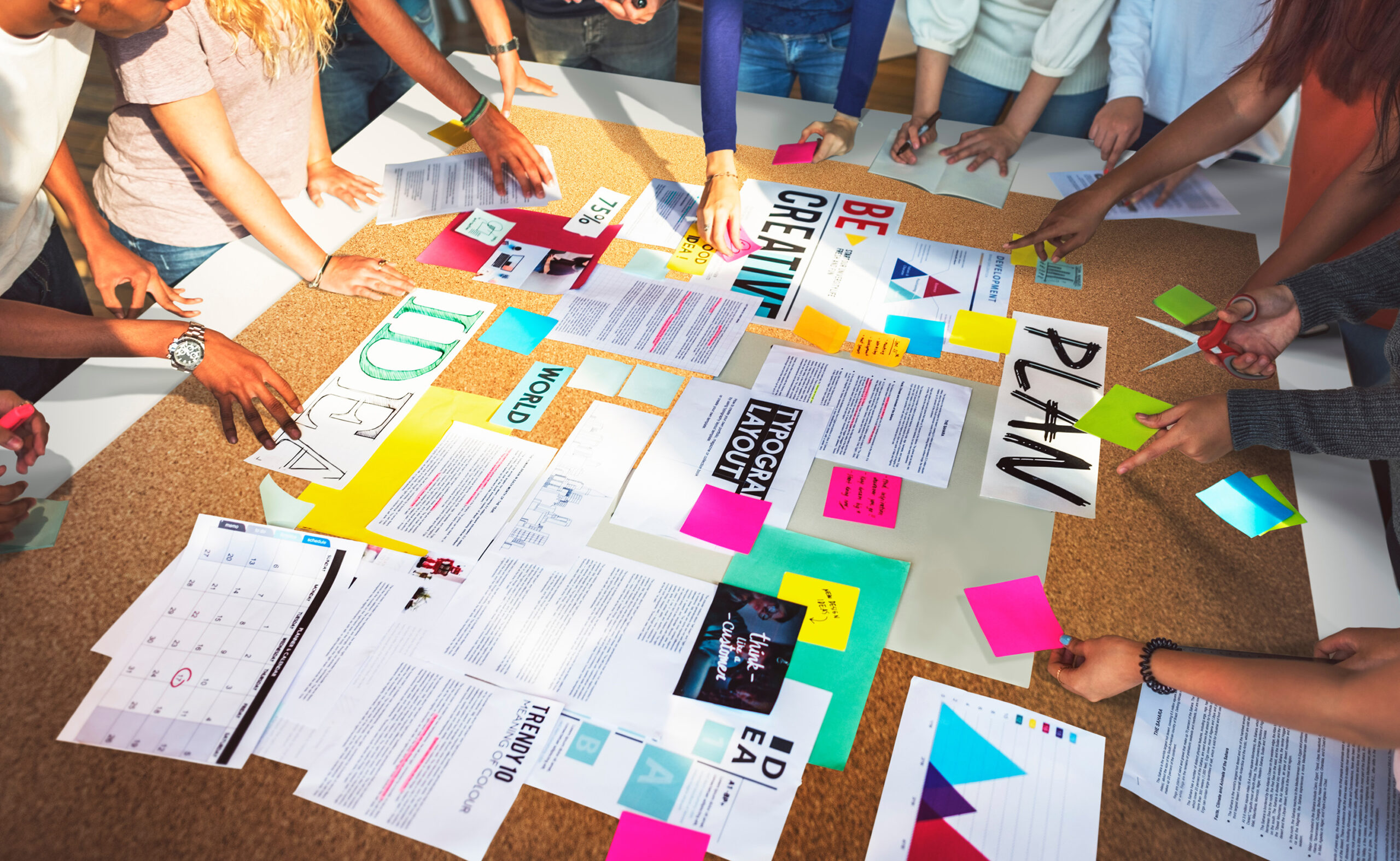 With more demand than expected, a tech non-profit needed to update their strategic plan and build for a post-COVID future they never could have anticipated.
With a limited budget, tight timeline, and fully remote team located across multiple time zones, they needed an efficient way to engage everyone in designing what was possible.

Approach
A three-phased plan that:
Ensured everyone's voice was heard and incorporated.
Worked around existing customer commitments and different schedules.
Leveraged the team's existing skillset to reduce consulting costs.

In addition to planning and facilitating the work sessions, Seven Ways Consulting created customized tools, templates and a "do it yourself" playbook approach.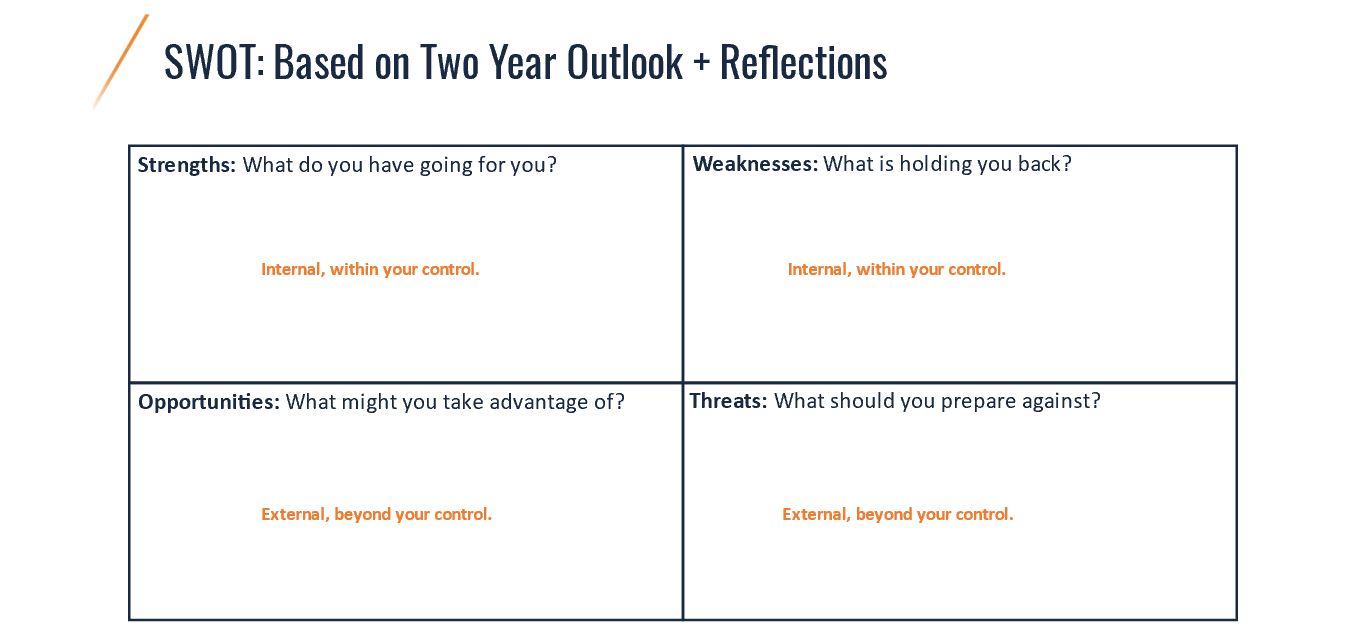 A shared understanding of what worked, and what could be improved, from the previous strategic plan.
An updated strategic plan, inclusive of Objectives, Key Results and project plans.
New team decision-making principles.
Experienced Executive Leader recently switched industries and was eager to lead their newly inherited team through strategic goal planning.
Existing leadership team had limited exposure to formal goal setting activities and struggled to balance daily operations and strategic thinking. Executive Leader had strong vision for what was possible, and wanted help creating a structured, yet fun, way to engage leadership team in goal setting and establishing their Vision, Goals, and priorities.

Approach
Through a weekly cadence, Seven Ways Consulting met with Executive Leader to understand objectives, created a goal setting and monitoring toolkit, including language and framework relevant to their culture and readiness. Provided coaching on how to deliver education and create plan.
Planning framework, activities, and tools to guide activities.
Facilitation guides to support Executive Leader in facilitating the team through the framework and activities.
A facilitated 2-hour session with the team to define their roles in leading a collaborative planning process with their individual teams, which will include skill and confidence building activities.
Weekly 30 to 60-minute planning sessions with Executive Leader to prep activities and provide an opportunity to reflect and adjust the materials and plan based on needs of the team.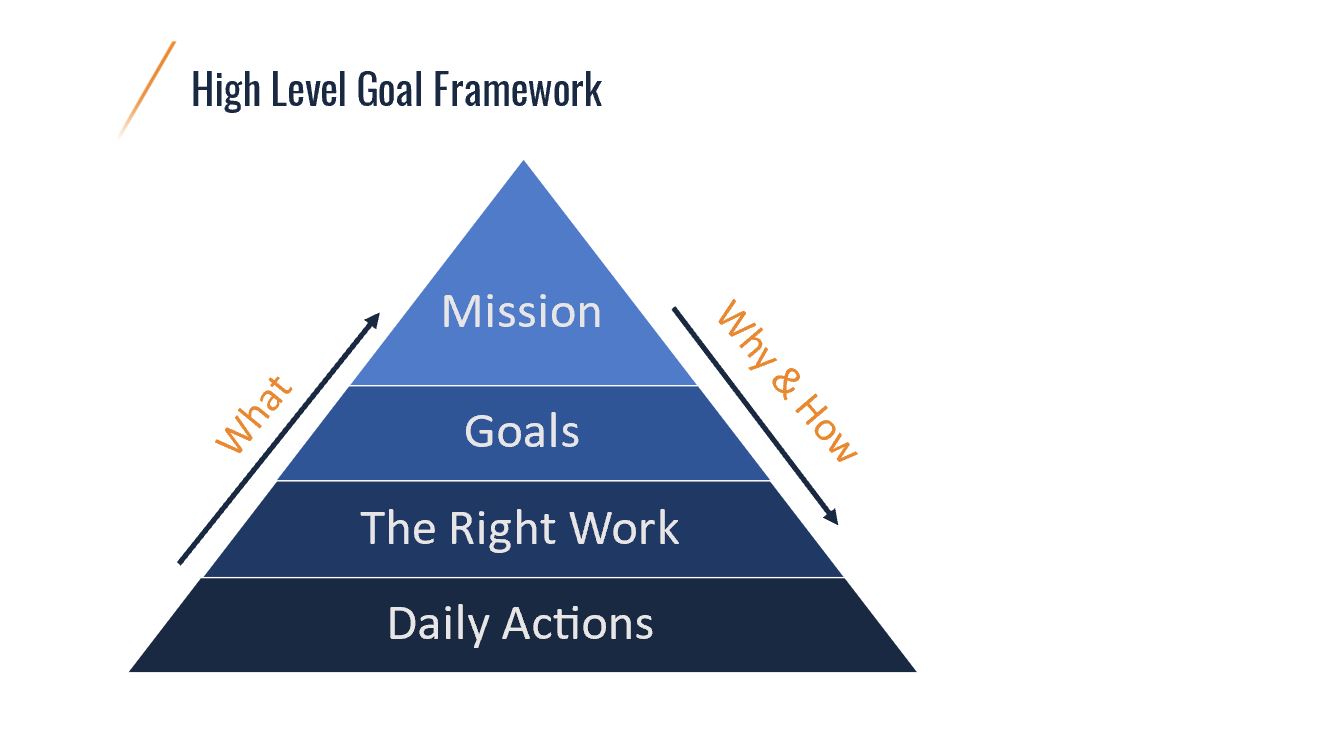 Creation of an inclusive, collaborative annual planning process.
Goal development.
Prioritized programs, initiatives and projects.
Team success factors.
Initial team routines to monitor and adjust the plans.
Performance Improvement department at large organization seeking to stay up to date on latest best practices and provide professional development opportunities for their coaches.

Approach
Monthly coaching cadence using a structured approach:
What is the situation you would like to discuss (event, project, client conversation)?
Why is this situation important to share today? What are you seeking from this conversation?
What is currently in process?
What reflections do you have? What questions do you have?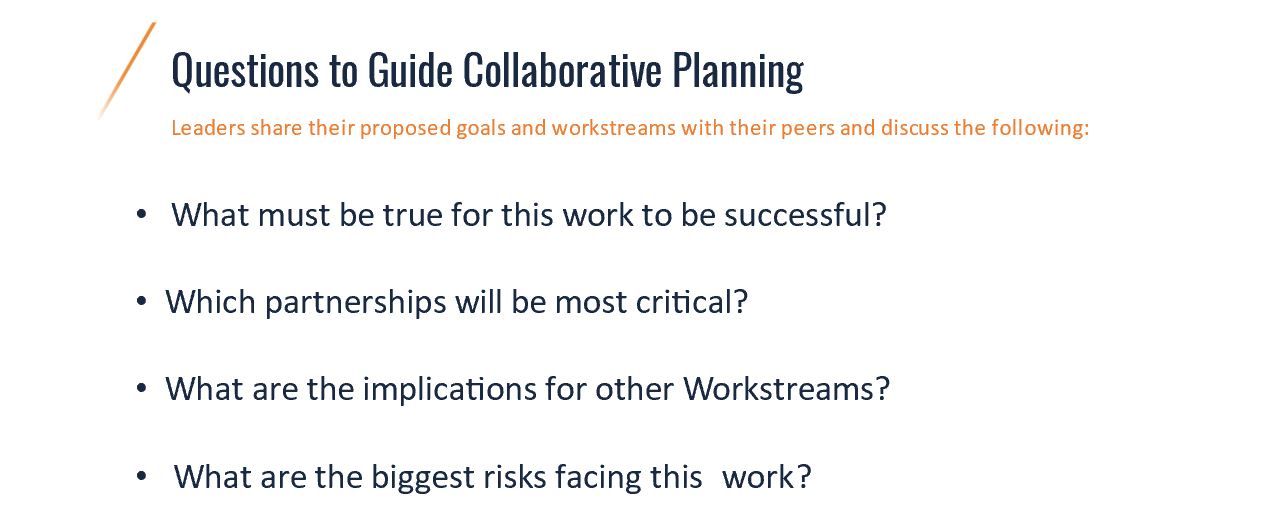 Trusting, collaborative environment to reflect on work and test new ideas with a neutral third party.
Exposure to immediately applicable cross-industry insights and fresh perspectives.
Dedicated time built into calendar for professional development.
An advisory group of healthcare executives from around the United States were looking to learn from one another and establish shared leadership best practices that enables the leader's role in creating a work environment supports rapid resolution of barriers, the development of problem solvers and high performance.

Approach
Pulled team of executives together for a facilitated two-day working session, emphasizing design-thinking and creation of "minimum viable product" to test.
Guided executives through establishment of clear success criteria for assessing their designs against scope and desired outcomes.
Facilitated small groups to design "seven different ways" they could achieve their goals.
Supported team to assess and select most successful design using their selection criteria.
Planned structured pilot to experiment and share their lessons learned once "back in the office."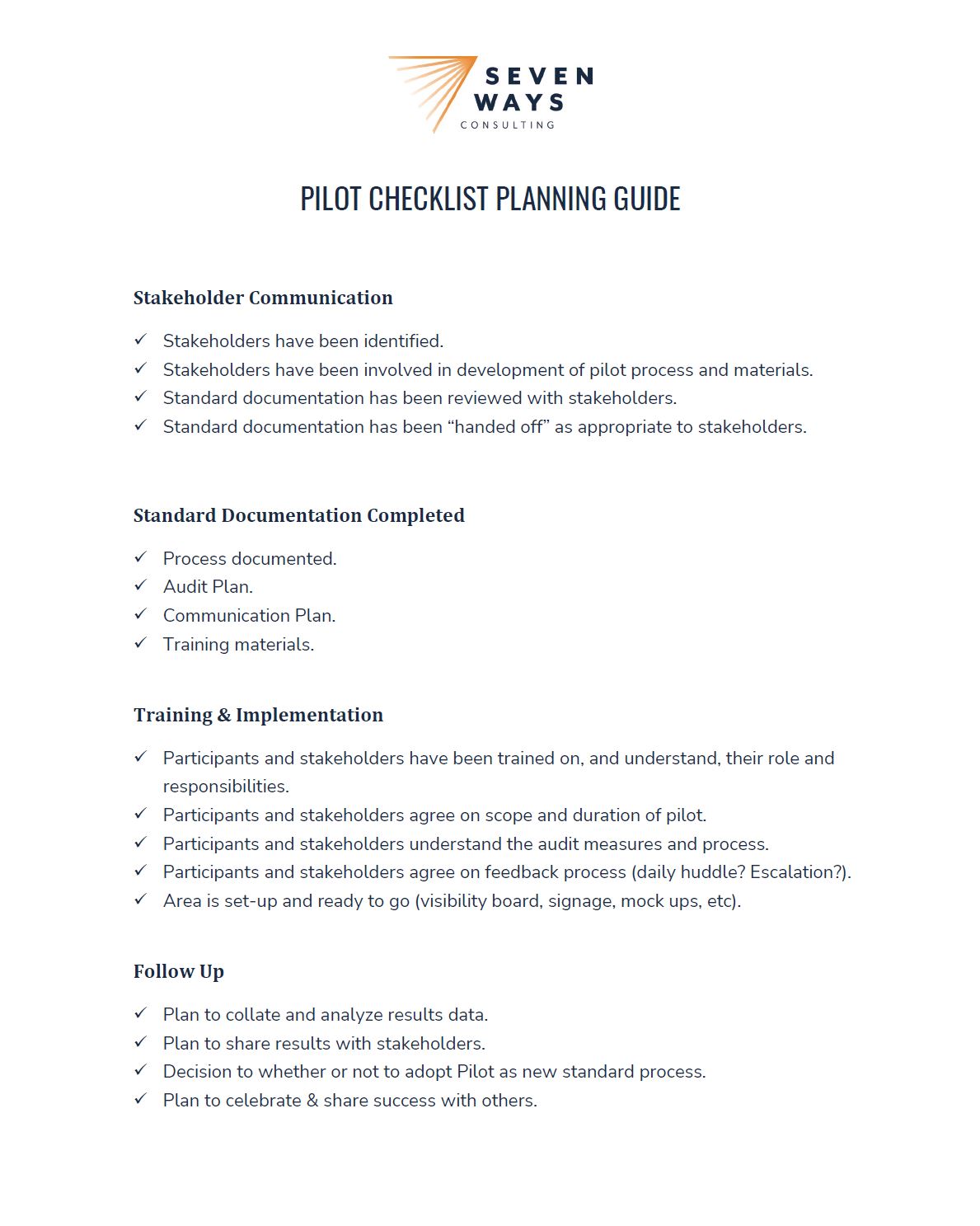 Creation of purposeful leadership routines that drive culture, achieve goals, and raise accountability.
New sense of purpose for the advisory group, shifting from simply sharing ideas to taking action.
Opportunity for executive leaders to understand how team members feel when going through the "improvement event" experience.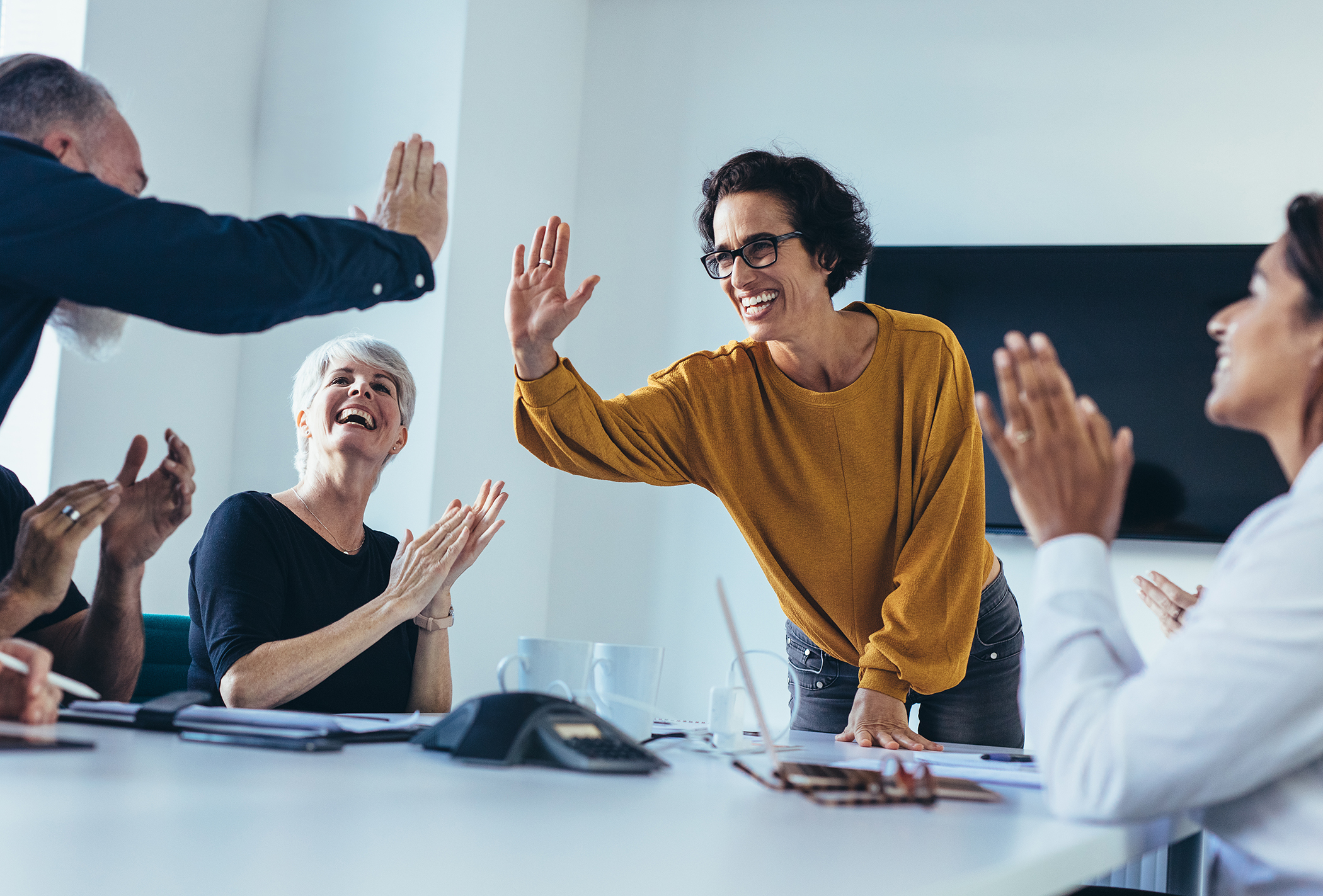 SIGN UP FOR OUR NEWSLETTER
Receive monthly tips & reflections in support of continuous improvement.