Engaging Your Teams in Effective Project Planning
Goal deployment, the act of collaboratively setting goals and planning the work necessary to achieve them, is one of our favorite activities. It feels like a fresh start, a new opportunity to accomplish what is most important to us. And while it may not sound glamorous, engaging your teams in effective project planning is a critical part of this process.
Done correctly, goal deployment combines equal parts optimism and integrity.
Creating a challenging vision requires a positive outlook and belief that what is currently unknown is possible. While at the same time, establishing realistic targets and workplans requires an honest assessment of reality. Modeling this behavior and involving your teams from the beginning enhances the process.
We have written about goal setting before. But in today's post, we are going to share a template and approach for engaging your teams in effective project planning, identifying and coordinating the actual work necessary to achieve your targets.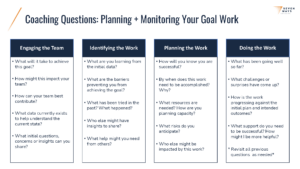 Download Project Planning Coaching Questions PDF here and follow along as we describe in more detail below.
Our project planning process includes four phases:
Engaging the Team
Identifying the Work
Planning the Work
Doing the Work
The first phase, Engaging the Team, happens earlier than you may be used to. Often we see leaders spend weeks (or months!) working "behind the scenes" to craft the perfect annual plan, only sharing it with their teams after it is official. Not on our watch! An honest assessment of reality requires input from those closest to the work. The sooner you gain input on these questions the better. Ideally, this phase begins before you even finalize your goals, and is revisited as needed. At the end of this phase, you will have built initial awareness and ownership in your team.
The second phase, Identifying the Work, may also seem a little premature at first. This phase is all about proactivity – encouraging collaboration and partnership with your likely stakeholders. In addition to relevant data, your teams' answers to these questions will also inform you of any potential change management or cultural readiness barriers that will be helpful to know upfront. At the end of this phase, you will have a more accurate understanding of the work's complexity.
The next phase, Planning the Work, likely looks familiar. However, the key differentiator is embracing the rigor to formally document the answers to all of these questions. If you are not yet using some version of a Project Charter, now is a good time to familiarize yourself with this critical and foundational project tool. By the end of this phase, you will have an actual project plan, with formalized scope, timeline and resource needs.
The final phase, Doing the Work, is ongoing and foundational for ensuring success. These questions can be built into a monthly meeting agenda, providing a dedicated routine to remove barriers and celebrate success.
Will this approach guarantee all your projects are completed on time and achieve exactly what they intended? Of course not. But engaging your teams in effective project planning creates ownership and helps navigate the inevitable surprises that will emerge along the way. After all, as the great Dolly Parton said,
We cannot direct the wind, but we can adjust the sails.
For support on improving your goal deployment processes or to share your best practices, please contact us here.